Saxophonist Rudresh Mahanthappa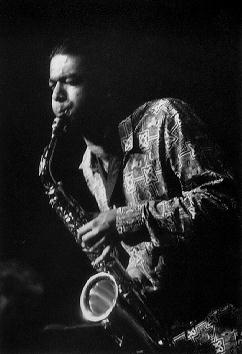 About Rudresh
Rudresh Mahanthappa is one of the most innovative young musicians on the jazz scene today. By portraying the culture of his Indian ancestry through his music, Rudresh has fused his various cultural influences to create a truly unique style.
As a performer, he leads/co-leads five groups of his own to critical acclaim. He has also worked as a sideman with such jazz luminaries as David Murray, Steve Coleman, Jack DeJohnette, Harry "Sweets" Edison, Von Freeman, George Garzone, Tim Hagans, Fareed Haque, Vijay Iyer, Howard Levy, David Liebman, Joe Lovano, Greg Osby, Dr. Lonnie Smith, and Clark Terry. Rudresh has achieved international recognition as he has played at the JVC Jazz Festival Paris, Jazz D'Or, the Verona Jazz Festival, India's Jazz Yatra, the Chicago Jazz Festival, the Jamaica Jazz Festival, the Toledo Jazz Festival, Jazz in the Sangres, the Verona Jazz Festival, and the Flint Jazz Festival to name a few.
As a composer, Rudresh has twice received the Rockefeller Foundation MAP Grant to develop new work in conjunction with the Jazz Institute of Chicago (Manodharma Trio, 2001) and The Jazz Gallery of New York (Raw Materials, 2002). Recently, he was the only jazz composer to receive the prestigious American Composers Forum CCP Grant to compose BLACK WATER which will premiere in April 2002.
Mahanthappa has his Bachelors of Music Degree in jazz performance from Berklee College of Music and his Masters of Music degree in jazz composition from Chicago's DePaul University. He now teaches at The New School University.
Rudresh Mahanthappa currently lives in New York where he is clearly regarded as an important and influential voice in the jazz world.
Page URL: http://rudreshm.tripod.com/cgi-bin/index.htm
Copyright 2000, Rudresh Mahanthappa
Photo: Mark Ladenson, Copyright 2000
Revised: 12/05/00