R A W&nbsp&nbsp&nbsp M A T E R I A L S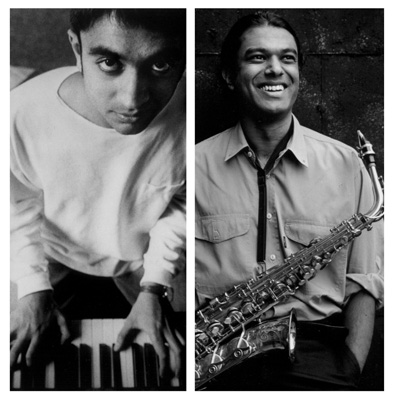 Pianist VIJAY IYER and alto saxophonist RUDRESH MAHANTHAPPA represent a new generation of American jazz musicians who explore the cultures of their ancestry through their music. The sons of immigrants from India, they draw from Asian, African, and European traditions to create original music that is beyond category. They have gained recognition from audiences, musicians, and critics alike as world-class improvisors and composers, outspoken young Asian American voices, and important forces in the music world. Since 1996, Iyer and Mahanthappa have worked together constantly, performing their cutting-edge original music to widespread acclaim around the world.
VIJAY IYER is hailed by The Village Voice as "the most commanding pianist and composer to emerge in recent years." He received the 2003 CalArts Alpert Award in the Arts, was named 2004 Up & Coming Musician of the Year by the Jazz Journalists Association, and is named a Rising Star Musician, Pianist, and Composer in the Downbeat Critics Poll. He has released several critically acclaimed compact discs as a leader: Memorophilia, Architextures, Panoptic Modes, Your Life Flashes with the trio Fieldwork, Blood Sutra, and In What Language? with Mike Ladd. His new quartet album, Reimagining, was just released by Savoy Jazz to rave reviews. Iyer performs frequently in the New York area and internationally with his various projects, and has also worked extensively as a featured artist with Wadada Leo Smith, Steve Coleman, Roscoe Mitchell, Amiri Baraka, and Greg Tate. In addition, Iyer has lectured and published on improvisation, cognitive science, and performance studies. He holds a B.S. from Yale College and an interdisciplinary Ph.D. in Technology and the Arts from the University of California at Berkeley
To learn more about Vijay as a leader including recent reviews, recordings, and Mp3s, please visit www.vijay-iyer.com.
Named a Rising Star of the alto saxophone by Downbeat International Critics Poll for the past 3 years, RUDRESH MAHANTHAPPA is one of the most innovative young musicians in jazz today. By incorporating the culture of his Indian ancestry, Rudresh has fused myriad influences to create a truly groundbreaking artistic vision. As a performer, he leads/co-leads five groups to critical acclaim. His most recent quartet recording Mother Tongue on Pi Recordings has been named one of Top Ten Jazz CDs of 2004 by the Chicago Tribune, All About Jazz, and Jazzmatazz to name a few and also received 4 stars in DOWNBEAT. This CD reached #8 on US jazz radio charts and remained at #1 on Canadian jazz radio charts for over a month. He has also worked as a sideman with such jazz luminaries as David Murray, Steve Coleman, Jack DeJohnette, Samir Chatterjee, Von Freeman, Tim Hagans, Fareed Haque, David Liebman, Greg Osby, and Dr. Lonnie Smith. As a composer, Rudresh has received commission grants from the Rockefeller Foundation MAP Fund, American Composers Forum, and the New York State Council on the Arts to develop new work. Mahanthappa has his Bachelors of Music Degree in jazz performance from Berklee College of Music and his Masters of Music degree in jazz composition from Chicago's DePaul University.
To learn more about Rudresh as a leader including recent reviews, recordings, and Mp3s, please visit www.rudreshm.com.
RAW MATERIALS, their duo project, engages the listener with intelligent melodies and harmonies combined with wonderfully layered rhythms, epitomizing new jazz at its best. Their ongoing musical collaboration showcases their strong creative alliance, their common perspectives and contrasting dispositions. The duo has premiered an evening-length work commissioned by the Rockefeller Foundation, had a performance broadcast on Swiss Radio, and appeared at international festivals in Strasbourg, San Francisco, Seattle, Perth, Melbourne, Vancouver, the Hague and Montreal, among others.
Home

Press Quotes&nbsp&nbsp&nbsp&nbsp&nbsp Upcoming Performances

Contact&nbsp&nbsp&nbsp&nbsp&nbsp Mp3s
Copyright 2002, Rudresh Mahanthappa
Photo: Andre Souroujon, Copyright 2000